Status Global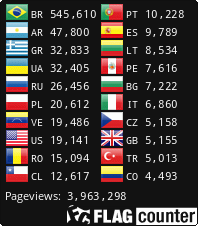 "
---
Grand Opening
03 May, 2019 • 20:00
(UTC -3)
---
L2 Hype Start Event!
Event 1: 1st Month Calendar of L2Hype! (For the entire month of May / 2019, all characters that are logged in at 10:00 PM received the calendar day item) Event 2: L2Hyp...
Customizações do servidor
Sejam muito Bem Vindos a ao universo on-line de Lineage2! Esse jogo é simplesmente o classico dos classicos em matéria de `R`ole `P`laying `G`ame, e aqui no L2Hype vo...
---
Streamers
&nbsp
---
Follow Us!